PTV Series Max. Continuous Pressure
Geometric displ. (c.c / rev)

Using water glycol fluid (HF-4)

Using water-in-oil emulsions (HF-3)

Max Pressure
(Kgf/cm2)

Max Speed
(rpm)

Max Pressure
(Kgf/cm2)

Max Speed
(rpm)

Max Pressure
(Kgf/cm2)

Max Speed
(rpm)

PTV6

10.8

1200

17.2

21.3

26.4

34.1

37.1

46.0

58.3

63.8

70.3

79.3

88.8

100
Product Features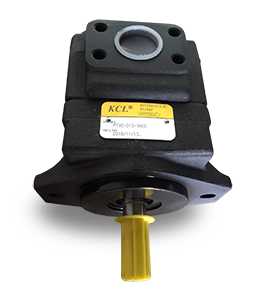 KCL's PTV Series hydraulic pumps are used for high pressure coolant systems & mist coolant lubrication spray system. These pumps are made of special materials with unique design of low noise, low pulsation and high working pressure, allowing continuous operation.
The reliable composition and manufacturing quality ensure a trouble-free operation that enable to increase processing speed by 3-5 times.
PTV Series are multi-function hydraulic pumps specially designed for machine tools of deep-hole cutting, gun drilling, high pressure coolant system, can be used with hydraulic oil, water glycol fluids, water-based processing fluids.
PTV Series pumps are exactly compatible with Grundfos Pumps.
Applications
We can provide you with effective solutions in the following areas:
• Machine tool (center outlet)
• Filtration
• Cooling system
• Parts cleaning machine
• Deep drilling, cutting & washing system (gun drilling)